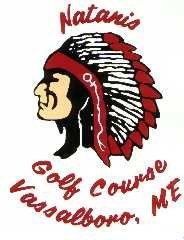 18 Holes w/Cart For $40
Must Have GOLF BOOK COUPON to REDEEM
Natanis Golf Course, located just outside of Augusta (one hour North of Portland and one hour South of Bangor), is the only golf course in the State of Maine to offer 36 regulation holes. Natanis was cut from the rural fields and rugged woods of Vassalboro, Maine.
Originally established in 1965 as a nine hole course by Paul Browne, it is run by the second and third generations of Brownes and has grown to become one of the most popular public courses in the State. "Golf Digest" ranked Natanis as one of the top 500 public courses in the United States. "Golf Digest" also gave Natanis' signature nine, Indian Territory, a five star rating, the only holes in the state to receive that distinction. In 2002 Indian Territory was combined with Arrowhead to form an 18 hole layout.
Natanis now has two separate 18 hole courses, Arrowhead and Tomahawk. Players are welcome to try our course on 36 holes in one day.