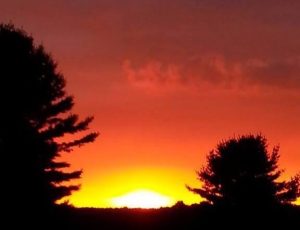 Free Green Fee
W/Purchase of Cart Rental!
&
FREE 1 HOUR GOLF SIMULATOR
$63 VALUE
Must Have GOLF BOOK COUPON to REDEEM BUY GOLF BOOK HERE!
Sunset Ridge Golf Links is Par 35, regulation golf course provides many "risk/reward" challenges for the avid golfer, while multiple tee positions make it enjoyable for the novice and beginner. The rolling hills and large open spaces make you forget you are only 10 minutes from Portland.
Want to work on your game? We have 2 practice holes (par 4 and 3). A pitching course off the deck of the clubhouse, a 9 hole Par 3 course (holes ranging from 80-160 yds) and a Driving Range with over an acre of grass tee round out our practice facilities.
In addition to golf, the club features a newly renovated multi-purpose event space called The Barn that features a restaurant, bar and outdoor patio with rustic-inspired decor.
The Simulator
Break out of the blues, with a trip to Hawaii or Pinehurst or Pebble, 18 holes in a hour. Tee times are highly recommended as time goes quickly. Bring a friend and play a quick 9 in an hour. Just want to hit golf balls? We have the driving range mode as well. We have over 30 courses to choose from. The simulators offer you the opportunity to practice on a driving range, or play a quick 9 (approx. 30 min).
Come down with a group of friends and join us in "The Golfers' Den" and experience why Sunset Ridge is the premier destination for golf in the Westbrook.